Finally—mashed "white stuff" you can gorge without regret. This tried-and-true favorite is low-carb, heart-healthy, vegan-friendly and Paleo friendly, with the creamy, fluffy texture and good nutrition you've come to expect.
Click to get more Easy, Healthy Recipes
Preparation Time

15 minutes

Cooking Time

20 minutes

Difficulty Rating

1

Health Level

5

Serves

12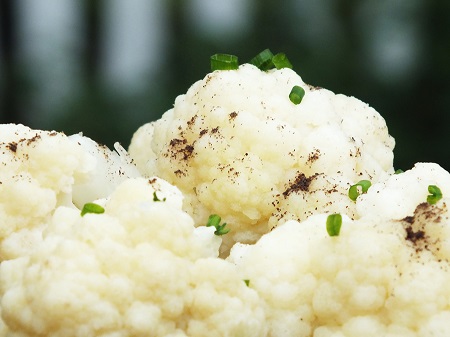 Ingredients
1 large or 2 medium head/s cauliflower (total weight: 2 lbs. / 900 g)
1 Tbsp. / 15 g butter, preferably organic pastured or:

½ Tbsp / 7 ml each olive and coconut oil

2 cups / 480 ml vegetable broth, preferably low-sodium organic
2 cups / 480 ml milk, preferably organic pastured or unflavored/unsweetened vegan
Seasonings of choice (optional)*
1 Tbsp. / 8 g arrowroot flour or organic cornstarch whisked with 3 Tbsp. / 45 ml cool water (optional)
*Optional Seasonings
4 garlic cloves, roasted and minced
1 Tbsp. / 3 g fresh chives, chopped
1 tsp. / 1 g fresh or ½ tsp. / ½ g dried thyme
½ tsp. / 1 g ground black pepper
1 tsp. / 2 g celery seed
1 tsp. / 3 g mild or smoked chili powder or paprika
Salt to taste, preferably Native American salt pan type
---
Directions
Scrub and cut cauliflower into florets.
Warm oil in 2-quart non-stick pan over medium-high heat.
Add cauliflower, and sauté until lightly browned and fragrant, about 5-10 minutes.
Add arrowroot or cornstarch mixture, and continue to cook over low heat for about 1 minute, stirring constantly.Add liquids and seasonings, cover, reduce heat to low, and simmer until cauliflower is very tender, about 10-15 minutes. Stir occasionally to prevent burning.
Empty pan contents into a food processor, blender, or bowl, and process/blend/beat until smooth. Spoon into serving dish.
Best served hot. Can be frozen.
Serving size: 1
 cup / 120 g
Exchanges per Serving: ⅓
 Protein, 1 Veg
---