Egg salad is delicious by itself, on bread or crackers, in a casserole, or as garnish for an elegant appetizer. Choosing the best eggs and seasonings makes all the difference in turning this classic comfort food into a health booster.
Click to get more Easy, Healthy Recipes
Preparation Time

10 minutes

Cooking Time

8 minutes

Difficulty Rating

1

Health Level

5

Serves

8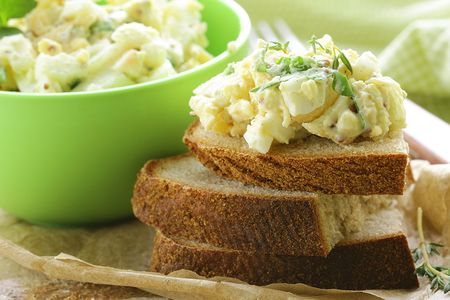 Ingredients
8 eggs, preferably organic omega-3 or pastured
4 Tbsp. / 60 ml mayonnaise, organic omega-3, olive oil, or flaxseed-based
2 Tbsp. / 15 g chopped celery or olives (optional)
½ Tbsp. / 4 g each finely chopped dill or chives (optional)
½ tsp. / 1½ g granulated garlic
½ tsp. / 1 g ground black pepper
¼ tsp. / ½ g paprika
Directions
Bring 2 quarts / 2 liters of water to a boil. Add the eggs, and boil for about 8 minutes. Cool to room temperature.
Finely chop the hard-boiled eggs, or mash them with a potato masher or a fork.
In a bowl, blend the mashed eggs with the rest of the ingredients. Correct seasoning to taste.
Serve with alone, spread over SWG* bread or roll (1 slice or ½ roll = 1 carb), or mixed with cooked pasta (½ cup = 1 carb).
Garnish with dill or chives, if desired.
*SWG = sprouted whole grain
Serving Size:

¼ cup / 2 oz / 57 g

Exchanges per Serving:

0 Carb, 1 Protein, ½ Fat
---