This is a good breakfast, snack, and vegetable treat all put together in one perfect bite. Indeed, a healthy and nutritious way to satisfy your craving for sweets. Gluten-free and vegan-friendly.
Click to get more Easy, Healthy Recipes
Preparation Time

15 minutes

Baking Time

20 minutes

Difficulty Rating

1

Serves

12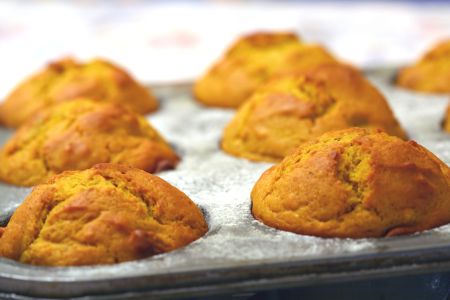 Ingredients
1¼ lbs. / 570 g (whole weight) butternut squash, peeled/seeded and cut into cubes
2 eggs, preferably organic omega-3 or pastured or ¾ cup / 170  ml aquafaba (canned chickpea fluid) or flaxseed gel
½ cup / 120 ml milk, preferably organic pastured or vegan
½ tsp. / 1 g Stevia or monk fruit sweetener
1 Tbsp. / 15 g organic grass/pasture-fed butter or organic vegan buttery spread
1½ cups / 240 g brown rice flour
½ tsp. / 1¼ g cinnamon
2 tsp. / 10 g baking powder
½ tsp. / 2½ g baking soda
½ tsp. / 3 g salt
---
Directions
Preheat the oven to 350°F / 175°C. Coat a standard muffin tray with non-stick cooking spray.
Steam the butternut squash for 15 minutes, until tender. Process the cooked butternut squash in a blender to make a smooth purée. Stir in the egg, milk, Stevia syrup or monk fruit sweetener, and butter; process for a few seconds more.
In a bowl, combine the flour, cinnamon, baking powder, baking soda, and salt. Stir in the butternut squash purée to incorporate with the dry ingredients. Fill the muffin cups with the batter to ¾-full.
Place the filled cups on a baking sheet over the center rack of the preheated oven. Bake for about 20 minutes. To test readiness, insert a toothpick into the sides of a cupcake – it should come out clean when done.
Transfer the muffin cups to a wire rack to allow cooling before taking the muffins out of the cups.
Serving size:
1 muffin
Exchanges per Serving:
¼ Carb, ½ Fat
---