Breakfast will be an interesting feast with this unusual muffin delight. This moist raspberry muffin is topped with sweet adzuki beans.
Click to get more Easy, Healthy Recipes
Preparation Time

15 minutes

Cooking Time

20 minutes

Difficulty Rating

1

Serves

12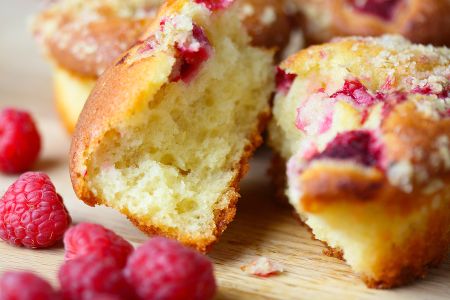 Ingredients
6 oz (¾ cup) / 180 ml organic soy or Greek yogurt
¼ cup / 60 ml organic grass-fed or vegan milk
1 cup / 160 gm brown rice flour
1 cup / 160 gm quinoa flour
1 tsp. / 4½ gm baking soda
2 tsp. / 9 gm baking powder
Zest of 1 orange
2 tsp. / 5 gm Stevia or monkfruit powder or ½ cup inulin sweetener
¼ tsp. / 1½ gm salt
1 cup / 125 gm raspberries, fresh
¼ cup / 60 ml avocado oil
1 tsp. / 5 ml vanilla extract
1 cup / 295 gm sweet adzuki beans
---
Directions
Preheat your oven to 375°F / 190°C. Spray 12 standard muffin baking cups or a muffin pan with nonstick cooking spray.
Mix together the rice flour, quinoa flour, baking soda, baking powder, orange zest, Stevia or monkfruit powder, and salt in a large bowl.
In a separate bowl, scoop in 2 tablespoons of the flour mixture and combine it with the raspberries.
Stir the oil and vanilla extract into the yogurt. Combine the yogurt with the milk, and slowly fold the combination into the flour mixture; add in the coated raspberries.
Fill the prepared muffin cups with the batter to about ¾ full.
Put a few adzuki beans atop each filled cup. Place the muffin cups on a baking sheet or place the muffin pan over the center rack of the preheated oven; bake for about 20 minutes.
After baking, transfer to a wire cooling rack; let stand for 10 minutes before removing the muffins.
---
Comments
Serving Size:

1 muffin
Exchanges per Serving: 2 Carb, 1 Fat
---