Potato pancakes are associated with the Hanukkah holiday, but they can be an elegant addition to any meal all year long. This recipe forgoes the usual peeling and deep-frying for a subtle boost in value that your taste buds AND your body will appreciate! Vegan friendly, gluten-free, can be grain-free.
Click to get more Easy, Healthy Recipes
Preparation Time

20 minutes

Cooking Time

30 minutes

Difficulty Rating

1

Health Level

4

Serves

12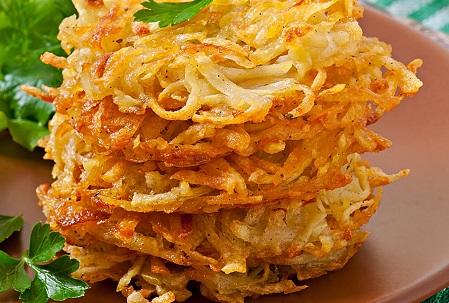 Ingredients
4 small-medium potatoes (total: 1½ lbs / 700 g), scrubbed or peeled (Russet potatoes are recommended)
1 cup / 160 g whole brown rice or quinoa flour*, toasted under the broiler setting of your oven or:

120 g almond meal or coconut flour

1 large or 2 small yellow onions, peeled, minced
1 clove fresh garlic, minced or:

1 tsp. / 3 g granulated garlic powder

2 Tbsp. / 7½ g fresh parsley, chopped
1 tsp. / 2 g ground black pepper
1 tsp. / 6 g salt or substitute
1 Tbsp. / 15 ml olive oil



*Make your own quinoa flour by toasting 1 cup / 170 g whole uncooked quinoa, then grinding to a powder.
---
Directions
Preheat oven to 450ºF / 230ºC. Line large baking sheet with parchment paper, and mist generously with oil.
In a food processor, grate potatoes using shredding disk; or grate by hand (a way to burn energy!).
Transfer to a large bowl and add remaining ingredients other than the oil. Combine well.
Drop ¼ cup potato mixture onto prepared pan and flatten.
Mist the tops of the pancakes with oil.
Place baking sheet in oven. Bake 15 minutes, turn latkes over, and bake an additional 15 minutes or until brown and crisp on both sides.

Serve with applesauce (½ cup / 120 ml = 1 fruit exchange) and plain yogurt, preferably organic pastured or vegan (¾ cup / 180 g = 1 carb + 1 protein exchange), if desired.
Serving size:2 latkes
Exchanges per Serving: 1-1½ Carb, 0 Protein, ½-1 Fat
---